Jeffrey Abrandt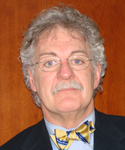 Jeffrey G. Abrandt is Of Counsel at Raphan Law.  He was formerly a partner at Goldfarb Abrandt & Salzman LLP. He practices primarily in Health law, Trusts and Estates and rights of the elderly and disabled.
Jeffrey was Attorney-in Charge of the Legal Aid Society, Brooklyn Office for the Aging from October 1982 – May 1989. And a Staff Attorney at The Legal Aid Society from September 1977 – September 1982 where he concentrated in housing, governmental benefits and the legal problems of the elderly. He also had substantial law reform and federal class action litigation experience.
Jefrrey was an instructor at the New School for Social Research and a lecturer for the Practicing Law Institute's annual national program, "Representing the Elderly Client," "Representing the Non-Traditional Family" and "Representing the Elderly Client of Modest Means." He has published numerous articles in the Practicing Law Institute, Course Handbook Series and the Brookdale Institute's Entitlement and Advocacy Training Pamphlet Series.
Jeffrey received his J.D. in June 1977 New York Law School and received the Board of Trustees Commendation 1975-76. He received his B.A. in History, January 1974 from Hofstra University where he was on the Dean's List.
Jeffrey is a member of the New York State Bar Association Elderlaw Section where he is on the Executive Committee. He is also a member of the Association of the Bar of the City of New York where he served on the Committee on Legal Problems of the Aging (1984-87, 1995-96). He is a member of the National Academy of Elder Law Attorneys and was Chair, Senior Section of the National Legal Aid and Defenders Association (1988-89).
Jeffrey has litigated numerous cases including the class action Strano v. Perales which established the right of Medicaid recipients to receive continuous 24 hour home care.