Mary Granfort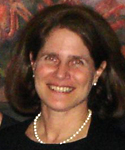 Mary E. Granfort, is a partner of Goldfarb Abrandt & Salzman LLP. She concentrates in Trusts and Estates and Estate Administration.
She earned her JD Degree from Fordham University School of Law, cum laude, in 1984, and her Undergraduate Degree from Boston University, magna cum laude, in 1979 and State University of New York at Binghamton, Harpur College (1975- 1977).
Mary has given the Annual Lecture on Lifetime Planning for the Elderly, for VOLS Organization, Legal Support Unit, Legal Services for New York City from 2000 to 2011; and she has been available for consultation to VOLS attorneys in connection with their pro bono work. She has also lectured on Planning with Advanced Health Care Directives and Powers of Attorney at the 2004 Seminar on Medicaid and Long Term Planning for the Association of the Bar of the City of New York.
She was a volunteer attorney in legal program organized by Sherman & Sterling to bring legal advice and information on administrative relief to victims of the September 11th 2001 World Trade Center disaster (a commitment of Saturdays in the Fall of 2001 at Chelsea Piers). She conducted an Estate Planning and Administration seminar for the Robert B. McKay Outreach Program of the Association of the Bar of the City of New York (2000).