The Components of an Elder Law Estate Plan
December 28th, 2018 by David Goldfarb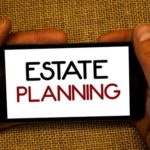 Estate planning is a complicated matter, and there are certain considerations that arise when creating an estate plan for older adults. Below is some information about the basic components of an elder law estate plan. Every estate plan should be carefully tailored to an individual's specific situation, so it's important to talk to a New York elder law attorney before taking any steps that could affect your legal rights or those of your heirs and beneficiaries.
An Inter Vivos Trust
An inter vivos trust (also called a living trust) is simply a trust that is formed while the settlor (the person who created the trust) is still alive. This is often a revocable living trust. A living trust is an excellent way to pass assets to children or other beneficiaries without having them go through probate, which can in some circumstances be costly and time-consuming. Best of all, in New York, you can be both the settlor and the trustee, which means you can retain complete control of the assets in certain kinds of trust.
A Will
Even if you have a trust and diligently place all of your assets in it, it's important also to have a will. A pour-over will can function to convey any property you failed to put into your trust into the trust when you pass away. In addition, a will can address certain issues that a trust cannot, such as the guardianship of any minor children you may have.
Advance Directives
Advance directives are documents that contain your directions regarding certain matters that others must follow if you are unable to make decisions for yourself. New York recognizes three types of advance directives:
Health care proxies – A health care proxy allows you to name someone to make decisions regarding your health care if you are unable to do so.
Living wills – A living will indicates what you want to happen when you are at the end of life and are unable to make decisions for yourself.
Do not resuscitate orders – DNRs indicate that you do not want health care providers to resuscitate you if you stop breathing or your heart stops beating.
A Power of Attorney
Any comprehensive estate plan should also include a power of attorney. A power of attorney allows you to delegate legal authority to act on your behalf to another person. A springing power of attorney is one that takes effect upon the occurrence of a certain event, such as your incapacity. In most cases you want to create a durable power of attorney, which is one that will survive your incapacity. The person to whom you delegate power of attorney will be able to make decisions regarding your finances and property.
Call Goldfarb Abrandt & Salzman LLP Today to Schedule a Consultation with a New York Elder Law Attorney
If you are an older adult without an estate plan or have an existing estate plan that an attorney has not reviewed in some time, you should contact a lawyer as soon as you can. To schedule a consultation with one of our lawyers, contact us online or call (212) 387-8400.
Comments are closed.